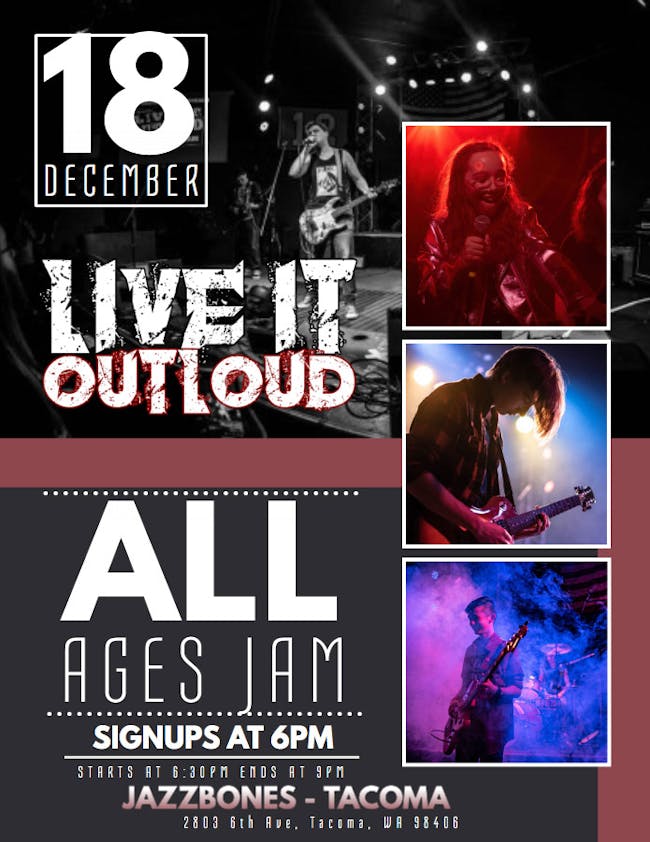 Live It Outloud// All Ages Jam
Live It OutLoud is designed to give students the technical and artistic skills necessary to pursue their passion and even develop careers in the broader entertainment industry. Any aspiring, non-professional musician ages 12-18 can participate. Guitarists, drummers, keyboardists, bassists, vocalists, and other instrumentalists are welcome. The only prerequisites are the passion to work hard and learn for eight amazing weeks.
The students will be placed in bands, and these bands become their new family. Students should expect to practice on their own on a daily basis, in order to properly learn the songs for the program. Each band is encouraged to rehearse more than once a week together, and many find they want to rehearse almost daily.
You've decided to come to the All Ages Jam @ Jazzbones on Wednesday but you are not sure how to act, what to do, how to prepare. Don't worry, we've all been there. Here are some tips to get you started.
What's a jam?
The traditional jam would be musicians getting together and improvising over an agreed upon key. The jams are there for musicians to hone their improvisational skills and practice different types of music. It can really give you a lot of different angles and new flavor to your own music. One of the most important things to know is when to play and when to not play, in a traditional jam.
However, we understand that not everyone is at this level where they can just jump in and play over anything. Our all ages jams are there for the participants of the Live It OutLoud program to have a safe space to play music, bring their friends and reconnect with other likeminded artists. At our jam, you can just as easily get up there and perform as a full band, as you can ask the host band if they know a particular song. If you really want to learn how to jam, just tell the host that and you will get to try the awesomeness of improvisation.
How to prepare
The stage will be back lined, however, don't expect that you can walk right in and borrow someone else's instrument. Come prepared! Bring your instrument, cable, picks, tuners, sticks, capos and extra strings.
Be there on time for sign up.
What to do at the jam
Sign up and don't be afraid to go first. The host and host band will normally get the thing started for you anyway.
Since our jams are backlined, you will most likely be using other people's gear. Be respectful. Never tune another person's instrument (to another tuning than standard) or play with the settings without asking first.
If you are on stage - play. Don't get on stage and then try to figure out what to play, this disrupts the flow of the evening and takes time from other artists.
What about the vocalists?
It can be really hard to be a vocalist at a traditional jam. But we've got you covered. The host band knows a plethora of songs, I am sure you can find a song that you and they both know.
Please keep coming to the jams - even if you aren't sure you want to play, supporting the jams will keep them going.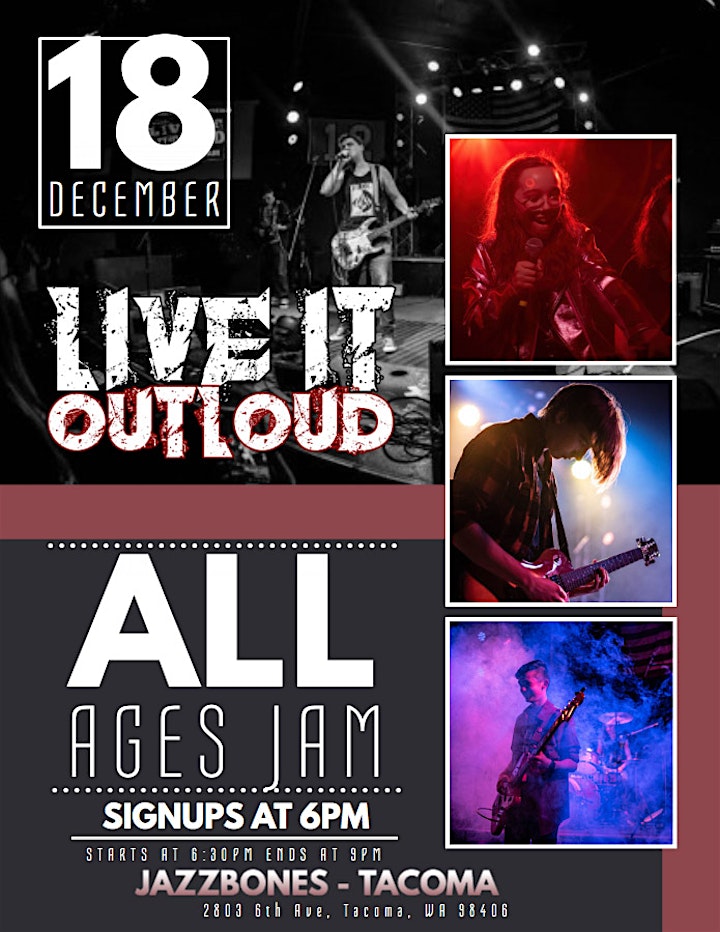 Venue Information:
Jazzbones
2803 6th ave
Tacoma, WA, 98406