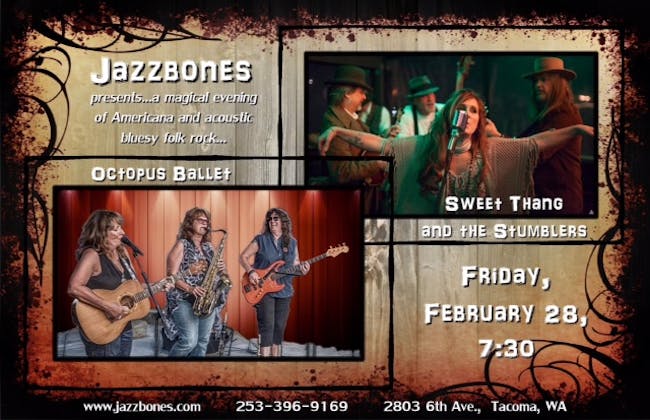 Octpus Ballet
Sweet Thang and the Stumblers
Octopus Ballet/Sweet Thang and the Stumblers
Octopus Ballet:
Sheryl Clark on clarinet, flute, and sax, Rachel Olive Williamson on vocals and guitar, Barbra Blue on bass, and Leanne Trevalyan on guitar, vocals, and percussion. An exciting acoustic Rock Band.
Sweet Thang and the Stumblers:
If you are into original tunes with some covers we and love acoustic music our Gypsy Grass style music will wow you.
Sweet Thang and the Stumblers is a new group of old friends with a love for writing and playing original old-school roots music. The band takes their inspiration from Fam Jam's, jam sessions with friends and family where everyone takes a turn leading songs. They continue this Fam Jam tradition with each member contributing with songwriting and singing, specializing in lush 3 part harmonies.
​The female vocalist brings mystery, magic, and beauty to a group of grizzled "band guys". These veteran multi-instrumentalists often pass back and forth the various implements of musical joy; Mandolin, Banjo, Dog House Bass, tenor guitar, Acoustic Guitar and Pedal Steel.
Come take a new trip back in time with Sweet Thang and the Stumblers.
For VIP seating/ADA seating please email Boxoffice@Jazzbones.com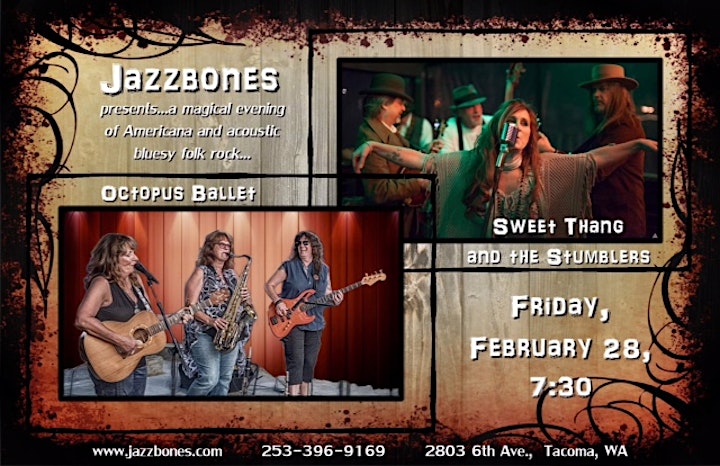 Venue Information:
Jazzbones
2803 6th ave
Tacoma, WA, 98406