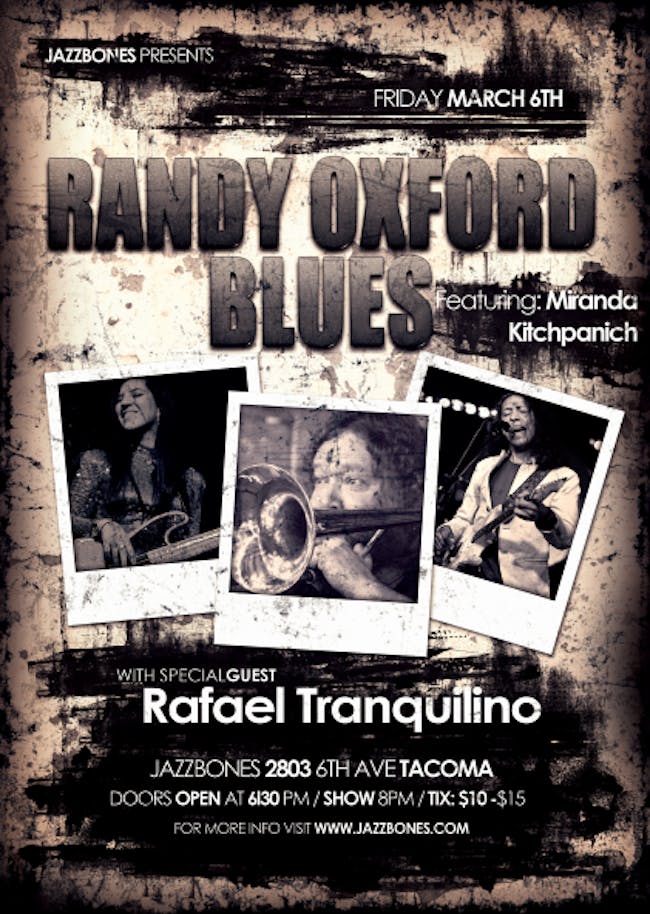 Randy Oxford
Miranda Kitchpanich, Rafael Tanquilio
$10.00 - $15.00
Tickets At The Door
Randy Oxford Blues, Miranda Kitchpanich, and Rafael Tranquilino
Winners of over 25 music awards in Washington State, Randy Oxford BLUES showcases their sophisticated brand of Chicago-style musicianship, daring arrangements of Blues classics, Americana, Soul, R&B, Funk, Rock, Motown and more. The band is led by Washington State Performer of the Year, Randy Oxford, whose prowess on trombone and ability to ignite an audience's enthusiasm have become legendary. Every show features multiple vocalists and instrumentalists making for a high energy and very entertaining show.
"Randy Oxford BLUES....it feels good"
www.oxfordentertainment.com
Rafael Tranquilino is known locally in the Seattle area as the lead front man and guitarist of his band, The Rafael Tranquilino Band. A power trio consisting of guitar, bass and drums that fuse rock, blues and funk with an alternative and fresh sound. He'll play a searing riff, tease you with an old fashioned Delta slide and then bring you back down with his powerful lyrics.
Rafael's exciting style and notable chops have earned him the reputation of being one of the "hottest" young guitar slingers in the Pacific Northwest and his band was noted as "Best Blues Band of 2012" in the Tacoma Weekly.
Born in Mexico City, Rafael Tranquilino is a big city kid. He is accustomed to subways, stadium sports (especially baseball), and lots of opportunities to hear and play live music. His father, a newspaper journalist, fostered Rafael's interest and talent in music. He started him on the piano when Rafael was just five years old. By the time he was nine, he was playing guitar, bass, and drums. After high school, he studied music at "La Escuela Superior de Composicion y Arreglo Musical" ESCAM and from a teacher from the "G,Martell University of Music" in Mexico City. Mexico has a rich tradition of music festivals, and Rafael has performed at many of them, including the International Festival Cervatino and also well know venues such as The Hard Rock in Mexico. He has played with his own band as well as well known Mexican artists. Examples such as legendary rock and blues singer Baby Batiz and the classic blues band, Heavy Nopal. Rafael arrived in the United States in 2006 and was hired as the musical director and lead guitarist for The Randy Oxford Band.
He recorded and was featured on 3 of their albums and extensively toured with them. In 2011 Rafael decided to take another creative turn by stepping out on his own and forming The Rafael Tranquilino Band.
Some of his major influences include guitarists such as Slash, Jimmy Hendrix, Eric Clapton, B.B. King, Carlos Santana, Steve Vai, Jimmy Page, Richie Blackmore, Sonny Landreth and Warren Haynes. Rafael has called his style of music alternative/blues/rock, music that will rock your heart & soul!
"The music I play is to rock your heart & soul- to expand your awareness." – Rafael Tranquilino
Since being in the United States, Rafael has performed in numerous festivals including Magic City Blues Festival, Tremblant International Blues Festival, Safeway Water Front Blues Festival, Playing With Fire Music Festival, Mt. Baker Blues Festival, Winthrop Blues Festival, Untapped Brews & Blues Festival, Ritzville Blues Festival, Sunbanks Blues Festival, Bite Of Seattle Festival, Tacoma Freedom Fair, Taste Of Tacoma, Tacoma Jazz & Blues Festival, Big Sky Blues Festival etc. He also has played numerous and well known night clubs and theaters, one being the famous Orpheum Theater in Memphis, Tennessee where he competed in the International Blues Contest.
Miranda is a dynamic vocalist with a variety of stage experiences. She plays guitar, bass and tambourine. Miranda's deep love and respect for the blues, classic rock, funk, and r&b is an evident influence to her performances and songwriting.
For VIP seating inquiries email Boxoffice@Jazzbones.com
All Ages Event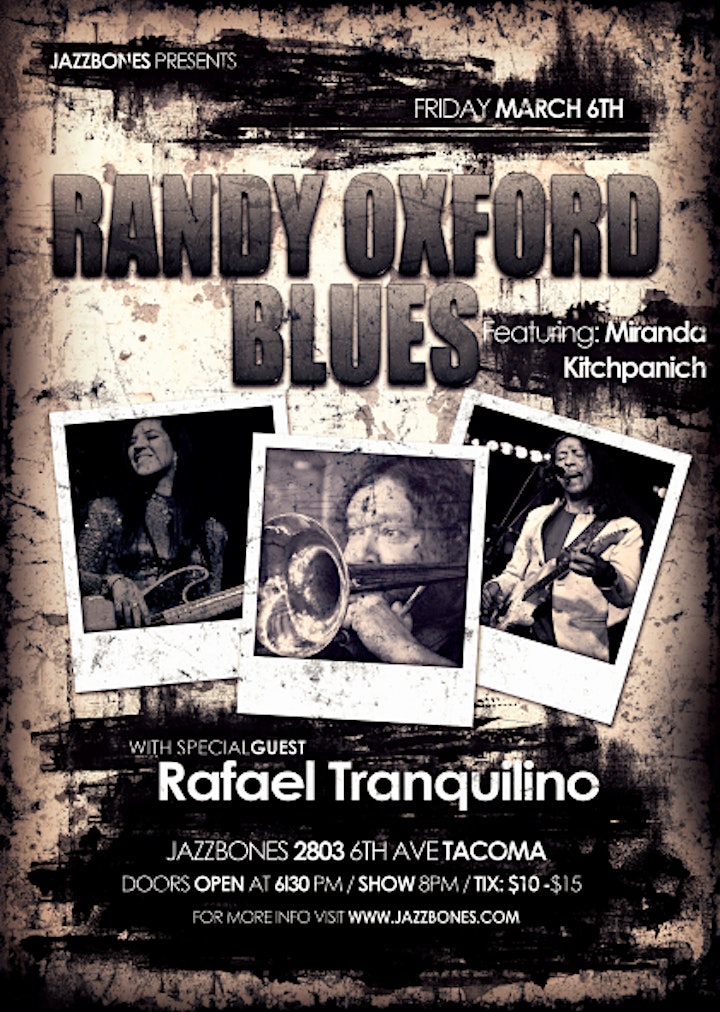 Venue Information:
Jazzbones
2803 6th ave
Tacoma, WA, 98406